Conference & Meeting Rooms in Heathrow
The Sheraton Heathrow Hotel offers a fine selection of luxurious meeting rooms near Heathrow, all of which exist to accommodate both professional and social occasions. With a choice of 20 modern, and full-flexible meeting rooms, we are sure to have the perfect meeting and event space for you or your company.
Our Heathrow Meeting rooms feature:
- High Speed Internet Access
- Natural Daylight
- Delights of the Perpetual Patisserie
- StarMeeting Concierge
- Unique Team Building Activities
Easy to Access, Ideally Located Event Spaces
Our meeting rooms are all positioned on the ground floor of the Sheraton Heathrow Hotel, allowing for easy accessibility and great convenience. Furthermore, the conference atrium floods our meeting spaces with natural daylight; providing the perfect environment to relax and engage in discussion.
In terms of location, The Sheraton Heathrow Hotel couldn't be better placed. Those that are travelling to London via plane will find themselves just a few steps away from the hotel, as soon as they exit Heathrow Terminal 5. Our conference centre boasts the best meeting rooms near Heathrow Airport; providing excellent facilities and signature Sheraton services.
Meeting Rooms for Every Occasion
Although each of our rooms are incredibly versatile, they are originally all designed for a specific purpose, boasting their own individual set of features and benefits to match your needs, be it personal or professional.
What events do we host?
- Corporate Meetings
- Corporate Training
- Conferences/Seminars
- Intimate/small weddings
- Presentation evenings
- Private dining
- Celebrations (Birthdays, social events)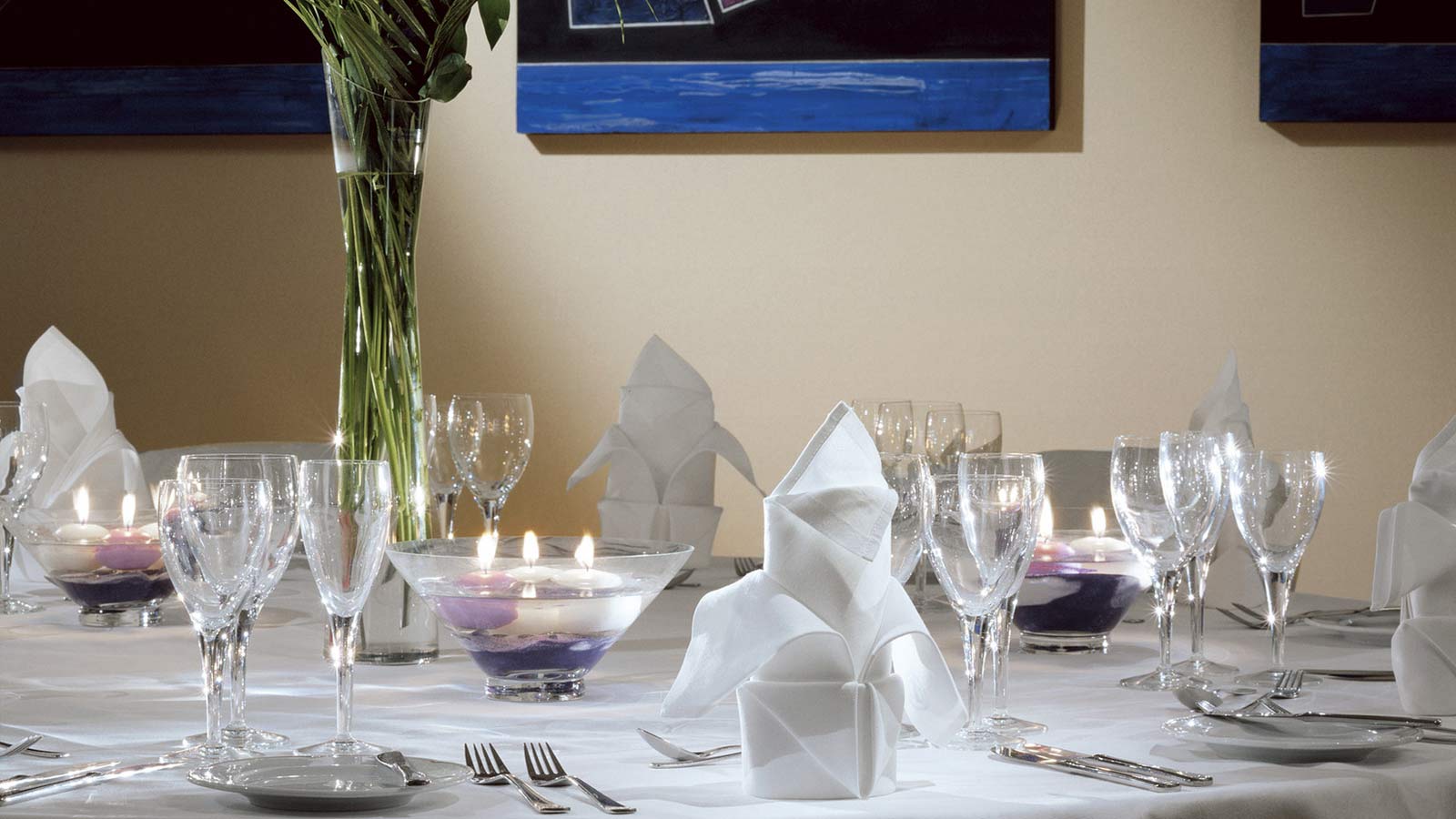 Celebration spaces:
- Our Knightsbridge Suite is the most popular, and largest suite we offer – seating up to 200 guests. This space is perfect for weddings, social celebrations, and sophisticated private dinners.
- The Grenadier Room offers elegant aesthetic and a luxurious, cosy environment, that is ideal for intimate celebrations and parties.
Boardroom spaces:
- The Moorgate Room is fully equipped for a boardroom meeting, boasting soft leather chairs, a large solid oak table, a built-in screen, and speakers.
- The Chiswick Room is a more intimate setting, with a smaller table and fewer chairs than the Moorgate Room. This room really benefits from natural daylight, making for a lovely relaxing space.
Conference/Seminar Rooms:
- The Bayswater Room offers an open conference style lay out, which can be adjusted to your will. The built-in screen centres the room, making for an ideal seminar/workshop room.
- The Brompton Room: The Brompton room provides a large space, plenty of chairs, and a built in screen – a highly popular choice for conferences and seminars.
- The Kensington Suite has a projector and a screen that is perfect for smaller presentations and seminars.
Extra Facilities
Guests can also request additional features such as High Speed Internet Access, which is available all around the conference centre allowing guests to access their emails or put together any finishing touches on presentations/documents.
Other treats that await you at the Sheraton Heathrow Hotel include the delights of the Perpetual Patisserie and the dedicated StarMeeting concierge, who will adhere to your every need.
As part of the package, we also facilitate brilliant team-building activities such as cocktail master classes, group pizza making and BBQS. We have the space to accommodate these activities in the restaurant, bar and areas outside of the hotel.
If you wish to find out more about our meeting and events rooms, we invite you to download our factsheet, which details all the facilities and amenities available at the Sheraton Heathrow Hotel, and also highlights the capacities of our meeting rooms.
Book a meeting room near Heathrow with us
You can now book your next meeting online in 7 easy steps, for groups of up to 20 guests. You will be able to choose your preferred room, menu, and request any additional services you require.